INTRODUCTION
3D Lenticular Laminator Model: LM801
China Patent Pending No.: 200520108472.5
European Patent Pending No.: 06251464.1
There are 2 ways to print 3D image, the 1st way is to print the 3D images directly on the lentiuclar sheet. The 2nd way is to print the 3D image on paper sheet, and laminate the printed paper to lenticular sheet.
Direct prints on lenticular sheet needs very accurate print press works, In general, the printed wastes will be around 20%-30% depending on 3D prints quality know-how. In fact, the 3D direct prints is very costly and printing know-how is a must.
Laminating is an ideal method to make 3D imaging, especially for many different 3D artworks with small quantities. Our product is the most accurate and just a simple touch the lens to adjust and regulate based on the printed paper.
A system of the LM-501 laminator is working waking with 6 rolls. This mean is the specialty to get the most reliable and stable operation any other than such as cold-rolled (2 rolls) laminator. The laminator LM-501 is more speedy and lessen glues than other common cold-rolled products.
Production Chart: Production Quantity:3,500sheets * Material Size:510*710*0.45mm

*This production chart for informational purposes only*
The Laminator is designed for 3D effect by combining offset printing and lamination, the application and effectiveness are as following:-
laminator is simple operation of high effectiveness, accurate and low costs in 3D production field.
*Maximum thickness of lamination material is
5 mm
.
*It processing smoothly to laminate lenticular lens
*It provides accurate and flexible effect laminating any different thickness of lens and printed paper with lessen wasting glues and high product with quality.
*Even lessen glue, lamination is thinner as flatness and stable as 3D effect witch mean that is prove definitely to product large quantities as better quality without wasting cost.
*Operation LM-801 is simple and easy to process as smoothly.
*Daily production is 2,500-3,500 laminated sheets per 8 hours shift of 2 workers.
*99% of qualified product rate and no practical waste at all.
*LM-801 provides economy and high efficient for any 3D lamination works.
All these advantages will bring a great way in the offset printing filed for 3D images production, the laminator will provide many good prospects of lenticular applications from now and in future.
Laminator LM801 Specialty and Patented Functions
*Laminating variable thickness of lenticular and printed paper together accurately by rolls with glues
*Six rolls operation with multi applications
*Simple and easy gluing operation
*Low cost in 3D laminating, and high efficient works
*Maximum thickness for laminating material is 5mm
Functions
Maximum laminating width is 780mm
*Adjustable laminating thickness from 0.45mm – 5mm
*Laminating speed is 7 meter/minute ( +/- 0.25m)
*Auto laminating counts and record
*Infra-red sensor and with mirror to control laminating accuracy.
*Adjuster at side to control and adjust the accuracy of laminating.
*Easy-off and on rolls design for cleaning glue or release jammed work.
Laminator LM801 Specifications
| | |
| --- | --- |
| Laminator Type | Rollers |
| Product Dimensions (L x W x H) | 2050mm x 770mm x 1020mm |
| Max Laminating Width | 550mm |
| Laminating Film Thickness | 0.45mm to 4.5mm |
| Number of Rollers | 6 units |
| Process Speed | 7 meter/minutes (+/- 0.25m) |
| Infra-Red Sensing | Yes |
| Laminating Sheet Thickness Adjusts | Yes |
| Printed Paper Adjusts | Yes |
| Glue Adjusts | Yes |
| Counts Records | Yes |
| Voltage | AC110V /50HZ or AC220V / 50HZ |
| Power Consumption | 500W |
| C.E Approval | Yes |
| Export Packing | 180cm x 130cm x 120cm / Wooden Case |
| G.W./N.W. | 430kgs/350kgs |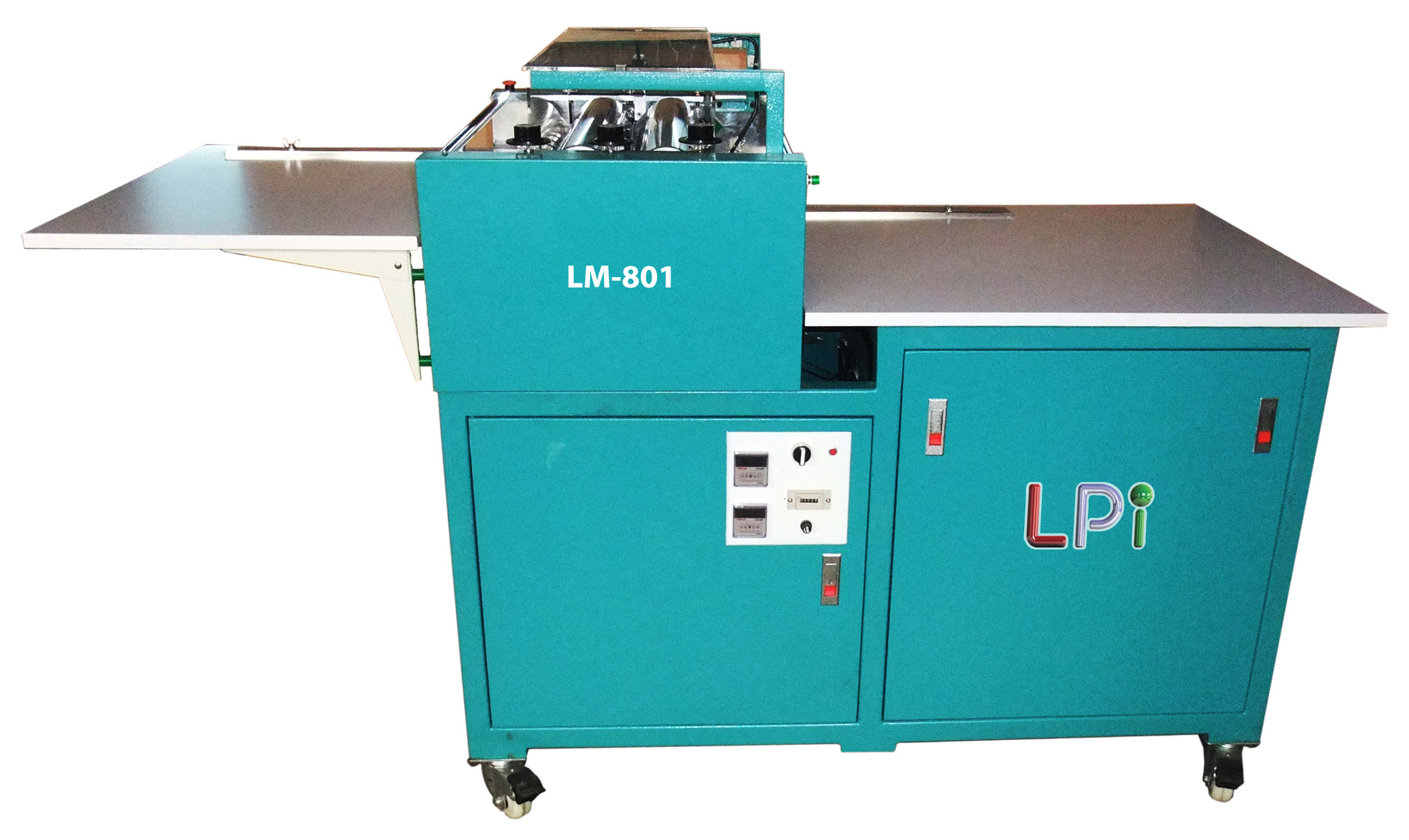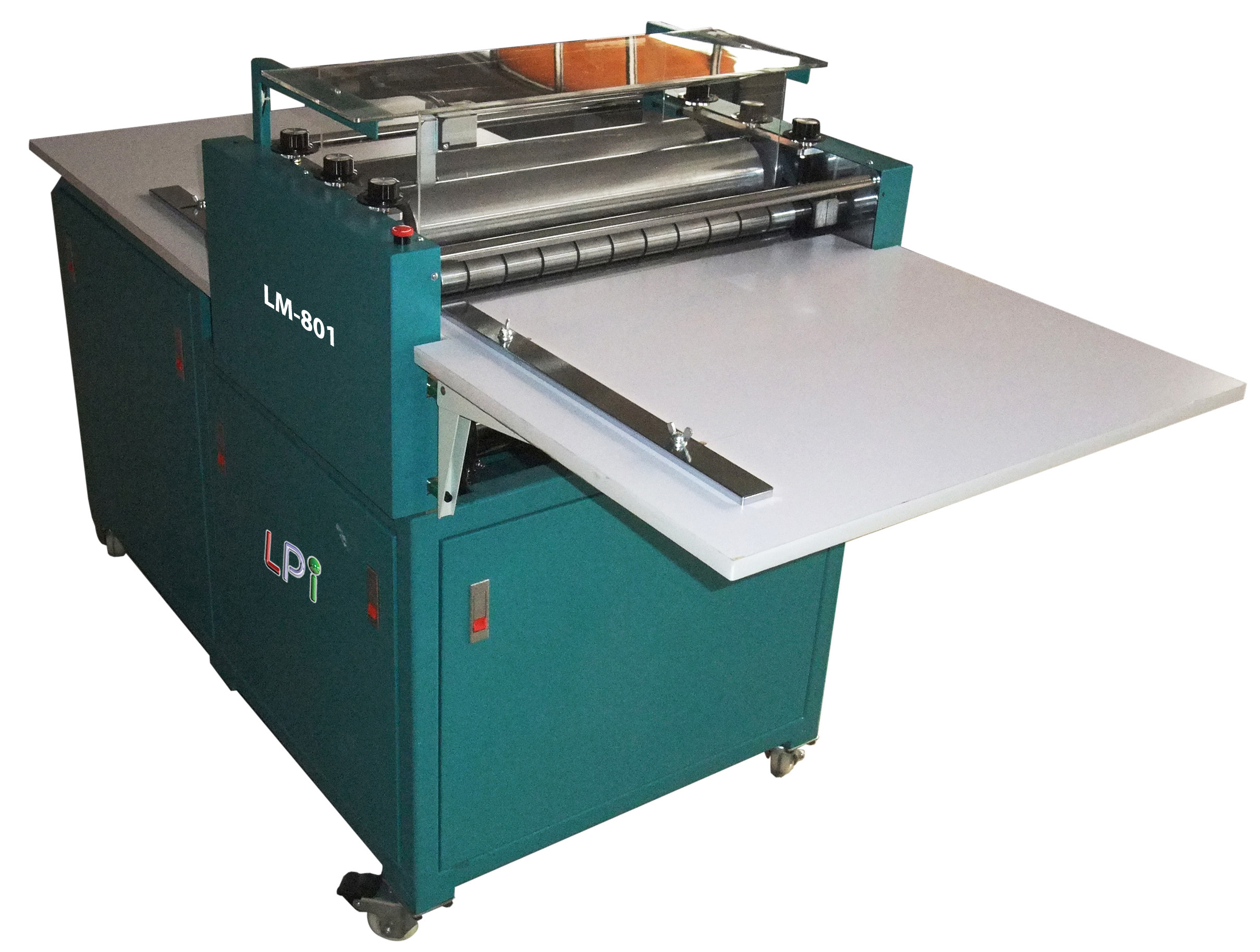 *Specifications are subject to change without notice and for informational purposes only.
*The 3D Lenticular laminator LM801 products the copyright owner is LPI 3D Printing Ltd.