Laminating
is an ideal method to make 3D imaging, especially for many different 3D artworks with small quantities. Our product is the most accurate and just a simple touch the lens to adjust and regulate based on the printed paper.A system of the LM-501 laminator is working waking with 6 rolls. This mean is the specialty to get the most reliable and stable operation any other than such as cold-rolled (2 rolls) laminator. The laminator LM-501 is more speedy and lessen glues than other common cold-rolled products.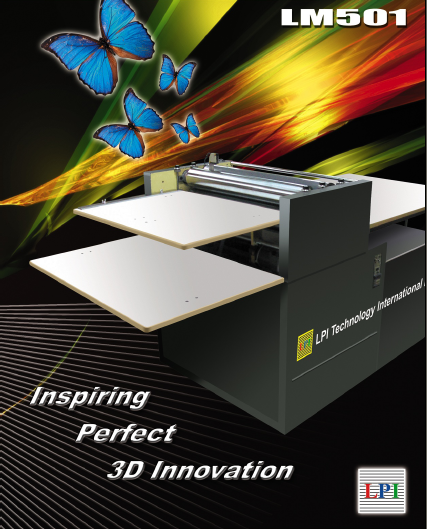 Maximum thickness of lamination material is 5 mm.
It processing smoothly to laminate lenticular lens
It provides accurate and flexible effect laminating any different thickness of lens and printed paper with lessen wasting glues and high product with quality.
Even lessen glue, lamination is thinner as flatness and stable as 3D effect witch mean that is prove definitely to product large quantities as better quality without wasting cost.
Operation LM-501 is simple and easy to process as smoothly.
Daily production is 2,500-3,500 laminated sheets per 8 hours shift of 2 workers.
99% of qualified product rate and no practical waste at all.
LM-501 provides economy and high efficient for any 3D lamination works.
Production Chart:
Production Quantity:3,500sheets / Material Size:510*710*0.45mm

*This production chart for informational purposes only*