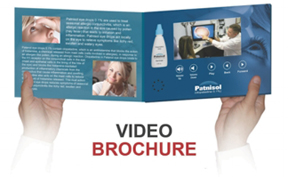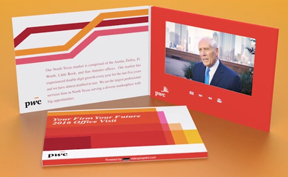 Video Brochures -digital print media by bringing consumers paper-thin, high quality print. Video can play multiple full-length videos or present video clips broken into chapters with playback and volume controls. The various systems are fully rechargeable, re-usable, and recyclable.
Here's a quick rundown of everything you need to know…
Standard Memory is 128mb, Which Supports About 20 Minutes Of Video Play Time. Larger Memory, Up To 2 Hours, Is Also Available.
Power by Lithium Battery 1500mAh and work time about 2 hours
The Actual Printed Card Sizes Can Be Any Size You Want But We Traditional Work With Either 5″ X 7″ Or 6″ X 9″ or 8" x 10"
Hard Cover Options Are Available At An Additional Cost.
Each Brochure Contains a Mini USB Port That Can Be Used To Recharge The Battery and Load Or Change The Video When Connected To A Computers USB Port.Cards Are Printed In 4-Color Process.
Screen Sizes Are Normally Either LCD HD 2.4", 4.3″HD, 5″HD,7"HD Or LCD IPS 4.3", 5″ and 7"LCD IPS Displays.
Minimum Order Quantities Usually Start At 100 Units.
Pricing For 100 Units Ranges From $28 – $55 Per Unit Depending Up Card, Screen Size, Memory, Etc.
Buttons Can Be Added To Play Additional Videos, Control Volume And For Stop-Play-Pause Functions At An Additional Cost Of $0.30 Per Button Per Video Card.
Content Can Be Pre-Loaded Or Uploaded Through USB Port.
A Pre-Production Sample Is Available For $150 And Takes About 1 Week.
For more detail contact us to start project NOW: lpi3dprinting@gmail.com